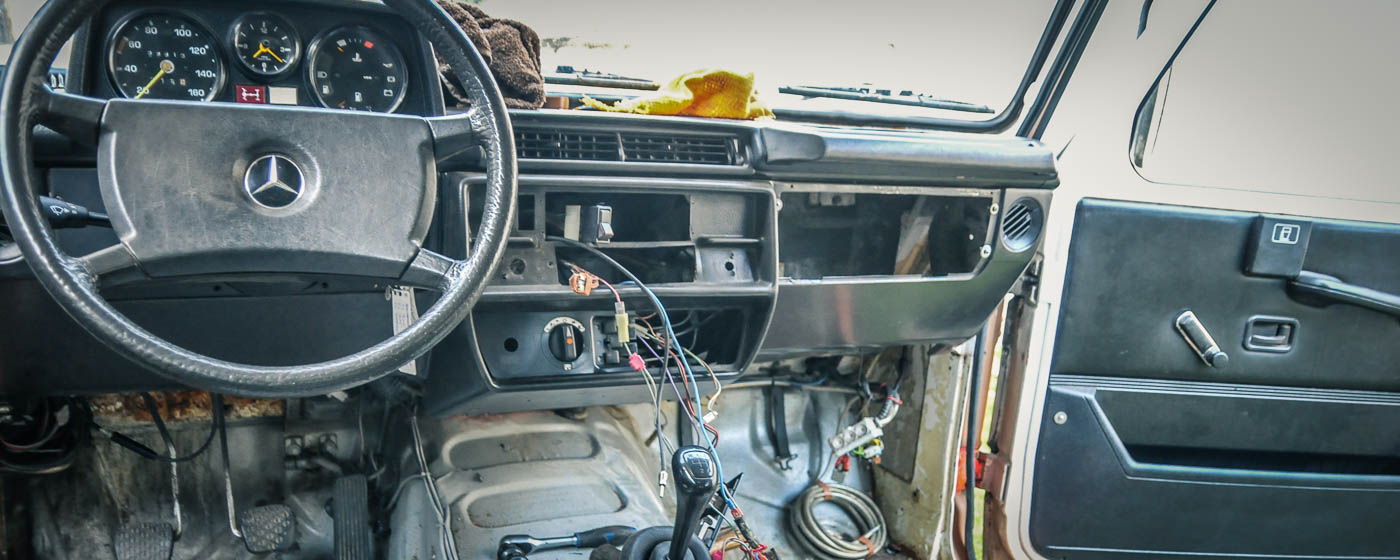 Come drive with me - the cockpit
Written by am
When traveling, the cockpit is inevitable the place where most of the time of a day is spent. In case of our vehicle, the cockpit wasn't a comfort zone.
The dashboard of our vehicle was in a pitiful condition. Either it was perforated or incomplete. We were able to close most of the holes and replaced a lost grid. Regarding the remaining holes, we killed two birds with one stone by just placing there two small anti-slip maps: the holes got covered and we hinder small stuff like our mobile phones, sunglasses etc. from falling down on bumpy roads. Not the most elegant solution, but practical.
A new appearance
All other odds and ends can be stored on the shelf of the self-built headliner above the cockpit. From the underside of this tray the screen of a reversing camera folds up at the push of a button. 
As the original roof lining was not remounted into the car, we had to find a solution for the attached sun visors. After a long search, we finally found universal visors, which could be screwed directly to the bodywork. This had worked out very well; nice side effect: the sun visors are black and fit perfectly to the rest of the cockpit. 
The do-it-yourself roof lining in the cockpit.
In the cockpit of the G, you initially got the feeling that you are sitting in a jet plane. "Thanks" to the previous owner, a lot of colorful switches have literally decorated the dashboard - they were decoration only, since not a single switch was working (for various reasons).
After we had removed the bar with the switches, a big hole gapped. With the purpose to close it, we fabricated a thin plate of aluminum and covered it with black synthetic leather. Afterwards, USB and 12V sockets had been incorporated into this newly manufactured part of the dashboard.
Music is in our opinion an essential part of a car trip. That's why it was important for us to install a reasonable audio system. A new radio, with boxes integrated in the headliner, complete the new appearance of the cockpit.