Panta Rhei - Everything flows!
Written by am
Our vehicle has two water sources. Neither of them is inside the vehicle.
Cold, clear water. Water is our most valuable asset. We are used to get it cold, hot or just the way we want it by just turning on the tap. Anywhere. Anytime. This luxury does not have to be missed when being on the road. There are countless water supply systems for vehicles of all sizes and types.
We do not have running water IN the car. Especially for reasons of space, we had decided not to install a fully-fledged water system with tank and pump inside the car. Thus we also have to live without an indoor water tap and a sink. Yes, maybe one day we will regret not having installed such a water supply system. But maybe not.
Enough water on board
In fact, our vehicle has two spots for water withdrawal, which are, however, only accessible from the outside.
One of our water sources is located in the so-called water shelf behind the co-driver's seat, where we have safely stowed six 12 liter canisters. Three of these canisters have water taps. If you open the tap, the water flows directly into the subjacent, collapsible water basin which is incorporated in the lid of the electric box. No pump is needed; good old gravity always helps and is free of charge.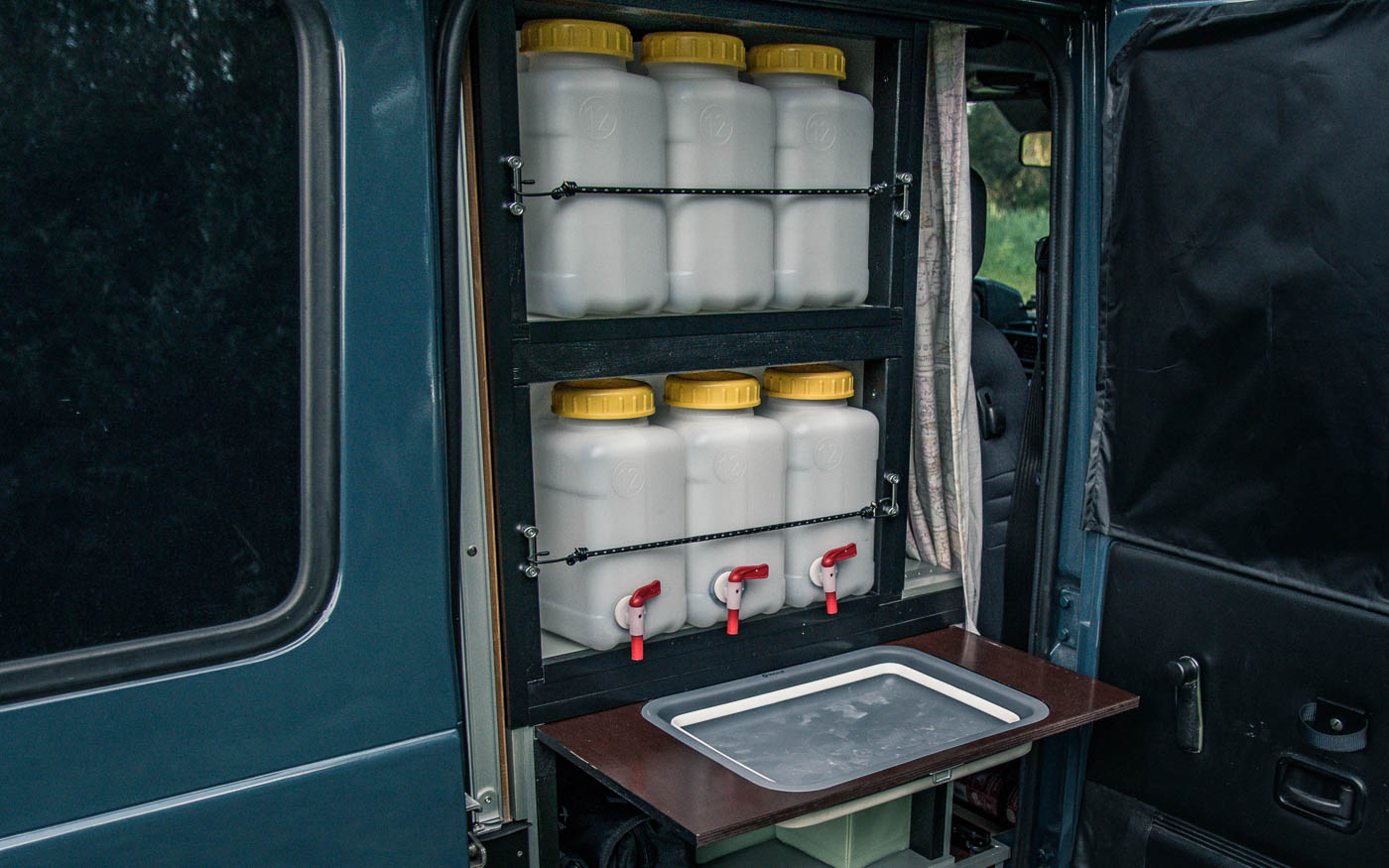 Our outdoor bathroom has everything we need.
Our bathroom wash basin (which is alternativly also used as kitchen sink) has everything it needs, and with a total of 72 liters it is also ensured that we are not left high and dry. The only drawback one could complain about is the fact, that we have to go outside to withdraw water. True, this is unpleasant when it is cold or rainy. However, since all six canisters are mobile, they can be easily taken inside the car in the event of an emergency - e.g. if it is impossible to get to the water source due to bad weather conditions.
The sun produces warm water
The second water source has a much smaller tank volume. The black pipe mounted on the right side of our car holds approx. 25 liters. The filling hole as well as the tap can be found both at the rear end of the tube. The water from the water pipe is used mainly as consumption water, e.g. for showering. Due to the black color of the pipe the water inside gets warm when exposed to the sun.
Related: A piece of furniture for water and electricity
Related: The black pipe - our water tank