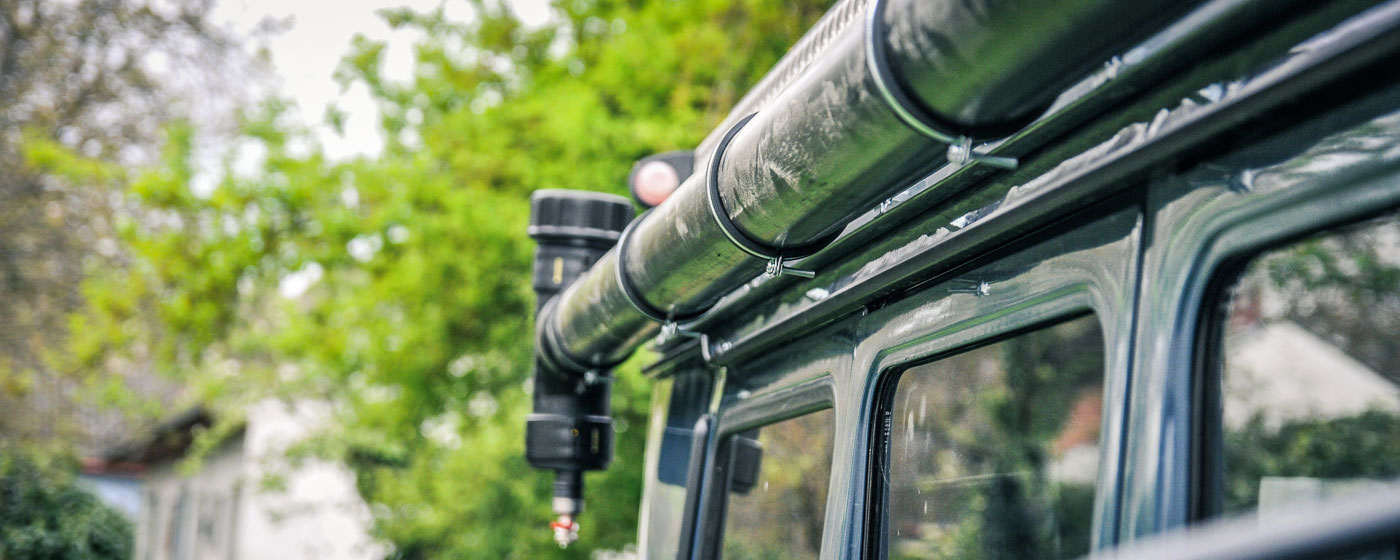 The black pipe - our water tank
Written by am
The obvious black pipe, which runs from the front to the rear of our adventure mobile, causes a lot of questions from outside observers.
In addition to the six water canisters, that are housed in the so-called water shelf, a second spot in our vehicle associated to water exists. Though this may not be recognizable at first sight. 
A PP-pipe from Geberit was attached to the outside of the G, and now serves as water tank. Since the pipe is black, the water held therein is heated when exposed to the sun. With a capacity of approx. 25 liters, we have enough consumption water available that both of us can enjoy a (warm) shower. 


Filling the pipe
There is nothing like a warm shower
For showering, we take off the lid of the pipe's fill port and simply hang  the pump of the camping shower into it. However, the pipe also has a tap from which water can be taken. 
The idea for this type of water tank is copied from other Overlander. We had asked a plumber to purchase the required pipe-pieces from Geberit and he welded them together according to our drawing. 
The pipe is mounted on the right side of the vehicle with six pipe clamps which are fastened on rails. The rails had been riveted to the bodywork. We used the same rails as for the mounting of the traction boards and the jerry can.
Related: More than just a piece of fabric - Shower curtain and awning
Related: A furniture for water and electricity
Related: Panta Rhei. Everything flows!