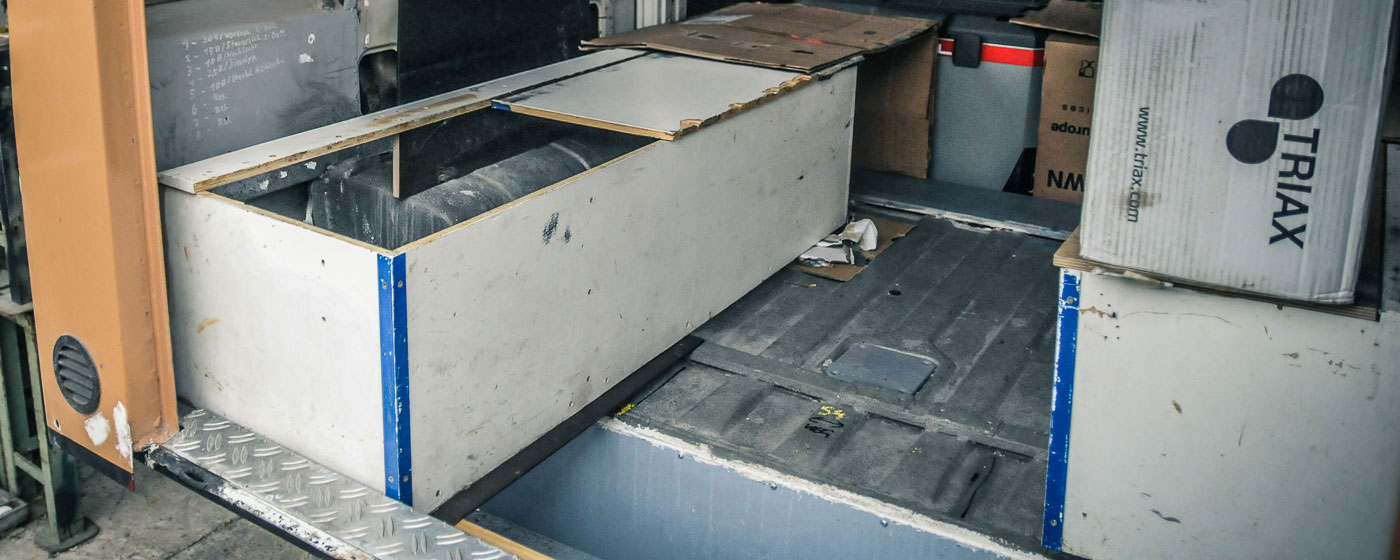 Straight from scratch - planning the furniture
Written by am
The moment we bought the car, we started planning in our minds how the interior should look like. Bringing the plans to paper was then much more difficult.
The construction of the furniture had stretched over more than half a year. To get a better idea of ​​a possible arrangement of the furniture, we have utilized cartons as dummies. This had worked surprisingly well. Looking on photos of these attempts today, it becomes obvious that the envisaged layout was actually realized.
Visualizing the interior with dummies.
No sketches, no plan?
There were hardly any precise sketches of the furniture, instead we had only badly drawn drafts, but they were sufficient for our purpose. We have considered all details of planning always on site. Means, sitting in the vehicle and using our imagination. Then we took a pencil, brought it on paper, took the measures and started constructing. Piece by piece. Of course, not everything was manufactured well right away, we made mistakes and corrected. Certainly, some pieces of furniture could have been better, but all in all we are very happy how they turned out.
Unintentionally, during the construction of the furniture some niches had been created which we now use as secret compartments to store documents and valuables. It will of course not be revealed where they are. 
Plywood as far as the eye can reach
For all furniture inside (bench, cupboard, electric box/water shelf, kitchen cupbord), we have used lightweight plywood panels; depending on whether they should carry weight or not, either 6 mm, 10 mm or 12 mm thick. Further, we utilized 4 cm thick wooden bars for scaffolding. To protect the wood from mold, we have treated it with a special, transparent wood glaze.
Since we had learned that untreated wood - or anything that looks like - can cause problems when entering some countries (such as Australia), we decided to bring some color into the interior and painted all pieces of furniture. We recommend to use a volumair for this undertaking - it is not only time-saving but also results in a more even outcome than working with a brush.
In retrospect, we can definitly conclude that we didn't expect the construction of the furniture to be that time consuming and labor intensive as it actually was. But: also Rome wasn't built on a day.